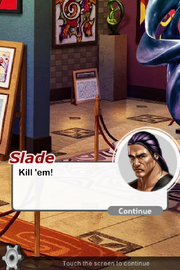 Slade
is a member of the
Centurion Biker Gang
led by
Caesar Haas
.
He actually originates from CoD's sister game Surviving High School.
CoD-wise, he first appears in "What Happened to Colt, Part 2?" as the perpetrator of a murder of a biker gang member. He was eventually taken down and exposed as a killer by his ex-friend, Colt Warren.
He then re-appeared in V14C4, when the Centurion gang was visited by Firstborn. He was asked by Firstborn where Caesar was; when he refused and tried to attack Firstborn, he was subdued by him (in one of 3 ways that are choosable by the player). After some coercion, the biker gang was established as the army of Firstborn.
He appeared as one of the minions of Firstborn in the shootout in V14C5.
Ad blocker interference detected!
Wikia is a free-to-use site that makes money from advertising. We have a modified experience for viewers using ad blockers

Wikia is not accessible if you've made further modifications. Remove the custom ad blocker rule(s) and the page will load as expected.